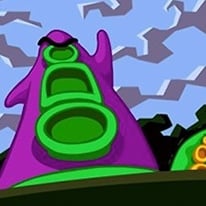 Day of the Tentacle
30.871 Partidas
¿Cómo jugar a Day of the Tentacle?
¡Disfruta de la alocada y cómica secuela de Maniac Mansion, una de las aventuras gráficas más famosas de Lucas Arts ahora en Minijuegos! Consigue salvar el planeta de los maléficos planes para dominar el mundo de los tentáculos mutantes del Dr. Fred Edison. Controla a tres personajes diferentes en tres períodos de tiempo distintos y emplea la lógica para salvar a la humanidad. ¡Pasa un buen rato con este clásico del año 1993!
Minitorneos, chatea y haz amigos
🕹️ ¿Qué juegos son parecidos a Day of the Tentacle?
❤️ ¿Cuáles son los últimos Juegos Clásicos similares a Day of the Tentacle?